I had quite a great time in KL. Not much time to shop tough, only about 4 hours in total, and I spent most of them in bookshops. I did a little yarn shopping, but couldn't find anything that I like. Check out my new books. And oh, they ARE pricey.
And my new yarns..only 2 skeins of wool, I was thinking of the Headline News from SnB when I bought this, but after I got home I realised that I'll need another 2 skeins, so it'll be something else. And on the right is another WIP, it'll be a lilac cable pouch. Can you believe this is the first time I'm using stitch marker??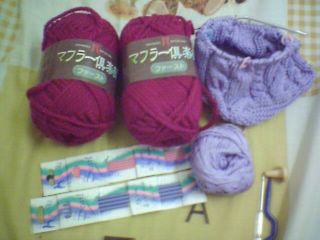 I also finished my mini cardigan, at last. The front turns out to be bigger than the back, that maybe I could make it double-breasted instead. I haven't weave in the ends and block it yet. Do you think I could shrink acrylic?? I have no idea.
And check out the back, I love it!!
I can't find the same cotton yarn that I'm using to make mom's cardigan, so I mix colour in stripes instead. I'm not so sure about my colour choice though, don't think that it suits my mom.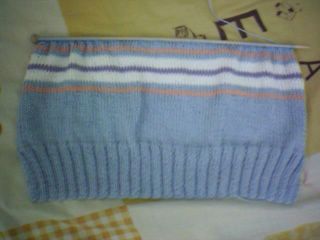 It's salmon pink, white and lilac, I think they look too baby together.
Last thing, I'm having my exam starting tomorrow (Chemistry!!), and I can't get my hands off the needle, which is
really
bad. Oh, and I'm planning to go to KL again next weekend, but I'll be all alone, so I'm not sure. Then I'm going to Singapore. Hope that I could do some yarn shopping there, after seeing what
Vanessa
got. And maybe I could attend a knitting meetup too, just maybe....
P.S : I ordered 30 skeins of Knitpicks yarn!! It's waiting for me at my home, can't wait to see them.