Don't you just love it when you come home feeling really tired after school and found these waiting for you at home.
Yep, they are gifts from my SP and purchase from
Cara
. Can you imagine my excitement? I feel like a little kid opening my Christmas present. I can't stop grinning while I'm opening the gifts, and my grin got even wider when I saw what's hidden inside. Here...
There is Susanne's Ebony circular needle size 5.00 mm, which would be perfect for my project using Merino Style. Then there are 2 cards of R2 yarn, which I think would be really fun to work with, really cute beaded stitch markers (my first!), the knitter's handy guide to Yarn Requirements (which just proved that my Merino Style won't be enough to knit a sweater), yummy dark chocolate (which I'm currently enjoying. SP, how can you know that dark chocolate is my favourite?), and a big bar of soap that I forgot to photograph (it smells so good!). And as if those are not enough, there's this SnB journal, which I REALLY wanted.
SP, I really thank you for giving such wonderful gifts, you're the best!!!
P.S. : Do you realize there's a name with the billing address inside the Amazon envelope? I'll play detective and try to find your blog among the huge participants list ;)
Well, here's my purchase from Cara.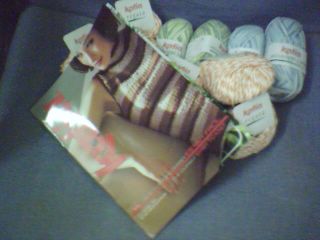 8 skeins of Katia Regata, 4 skeins of Katia Mississipi Print in 2 different colourways and a Katia magazine.
If you look at the title, it says Triple. I went out after school and went to the LYSs in a mission to find the perfect yarn for Orangina (I'm in the KAL! Look at the sidebar). I didn't find it, instead I bought these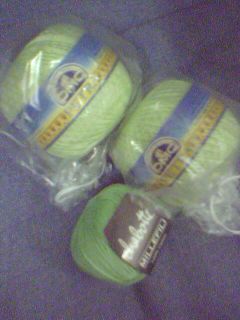 Actually I'd rather knit the whole Orangina with the millefili cotton yarn. Unfortunately, my LYS only have 2 balls left, so I opted for the DMC Petra instead. I'm now considering using the Millefili for the ribbing part, wonder how it'll turn out. I knit a swatch using Miami cotton yarn in a very lovely bright blue shade. Then again, I only have 1 ball of that colour, and I really don't think a stripey Orangina will look good. All the cotton yarn I can find in the LYSs are either too dark and dull, or they don't have enough stocks. I hope Orangina will work out well with this yarn, I'll start swatching tonight.
I'm having a cold sores outbreak so I went to the pharmacy to get the medicine. Can you believe that a 2gr tube of cream costs me RM 41.55? It's more than US$10.00!!
I hate having herpes, but I'm still thankful that it's ONLY on my lips. If you know what I mean....