...virtually on eBay.
Care for some yarn porn?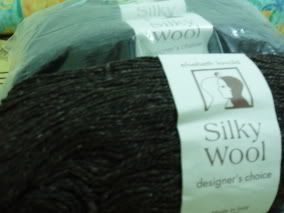 A pack of Elsebeth Lavold's Silky Wool in shade Chocolate. Not exactly my colour, but I just had a sweater idea in mind. Anyway, I accidentally cut some of the yarn when I opened the package, ugh.
Some bamboo goodness....yummy yummy yarn.
Some Summer Tweed just got here today...feels a little weird to my touch, like it's lifeless...hopefully will get better when knitted.
And 2 skein of laceweight yarn from Ukraine. I was thinking of a lace shawl, but the yarn is
really
fine, I'm not sure I can handle it now.
Yeah, judge on my self control now.
Hey, guess what? My exam IS over. Finally. No more studying till next year, yipee!!
Uhm...don't ask me how the exam went, please.
And I can finally call myself a high school graduate in 2 days. I hate being late, most of my primary school friends are in university or college now. But whatever, I get to relax for one year extra anyway.
"What next??" you might ask.
Let me tell you then, Art and Design Foundation in Brighton, UK. YAY!!
It'll be some kind of transition phase for me, I'm hoping that it can help me decide on whether I really want to take design as a degree. Or what matters more, whether I have the talent.
Enough talking, remember my Kiri? The pretty one, that's too small for me that I had to endure the pain of frogging the lace edging AND putting it back on needle. What strain it gave my eyes. Well, I finally blocked it yesterday.
Isn't she a beauty? I used up almost a hank of Shimmer for the 5 repeats I added.
And....for the Socktoberfest I knitted Elfine Socks, using the pretty pattern from
Anna
, thanks!!
Ohh...lookie here, we have not just a sock, but one and a half socks!!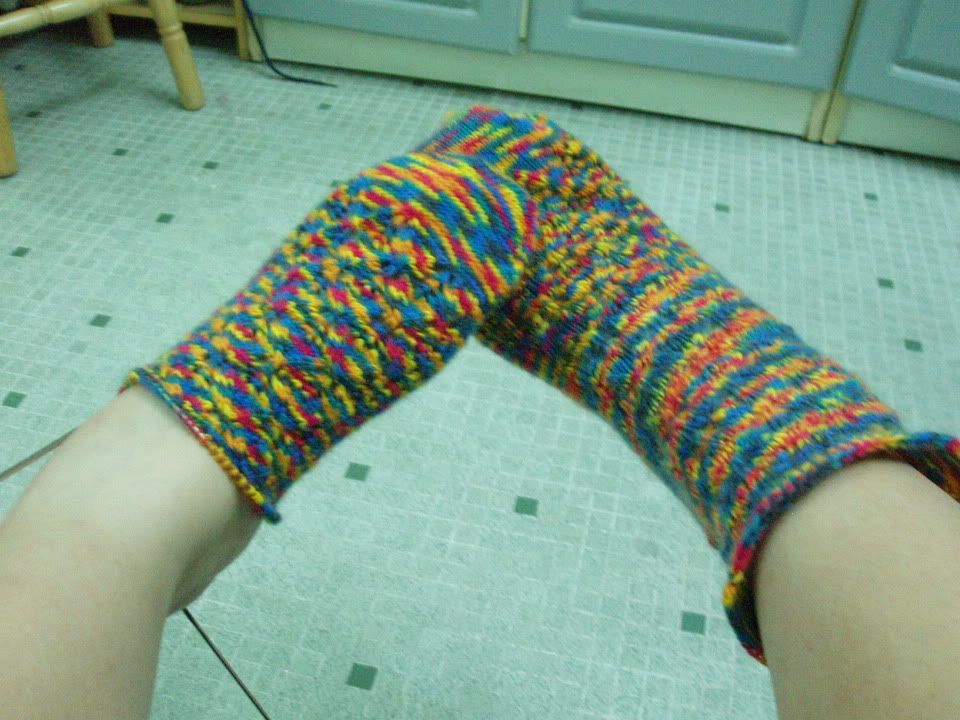 The yarn is from
Janet
, my SP5. Thanks dear, for supporting me to cast on for the second sock for the first time!! SSS? Bah!
Too bad the yarn and the pattern don't get along really well. I can hardly see the leaves pattern on that splash of crazy colours.
I also started a scarf with Colinette Giotto. It's my first experience with ribbon yarn, and it's getting really messy. I'm not following any pattern, just mixing openwotk with dropped stitch. It'll become a quiet funky scarf, I think. I'll show you when there's more to it.
I'm expecting Clapotis to be done soon. By soon I mean in another half an hour or so. Well, expect an FO report soon, then.
*cough* I'm having sore throat and runny nose. Gotta drink piles of water.