Remember her?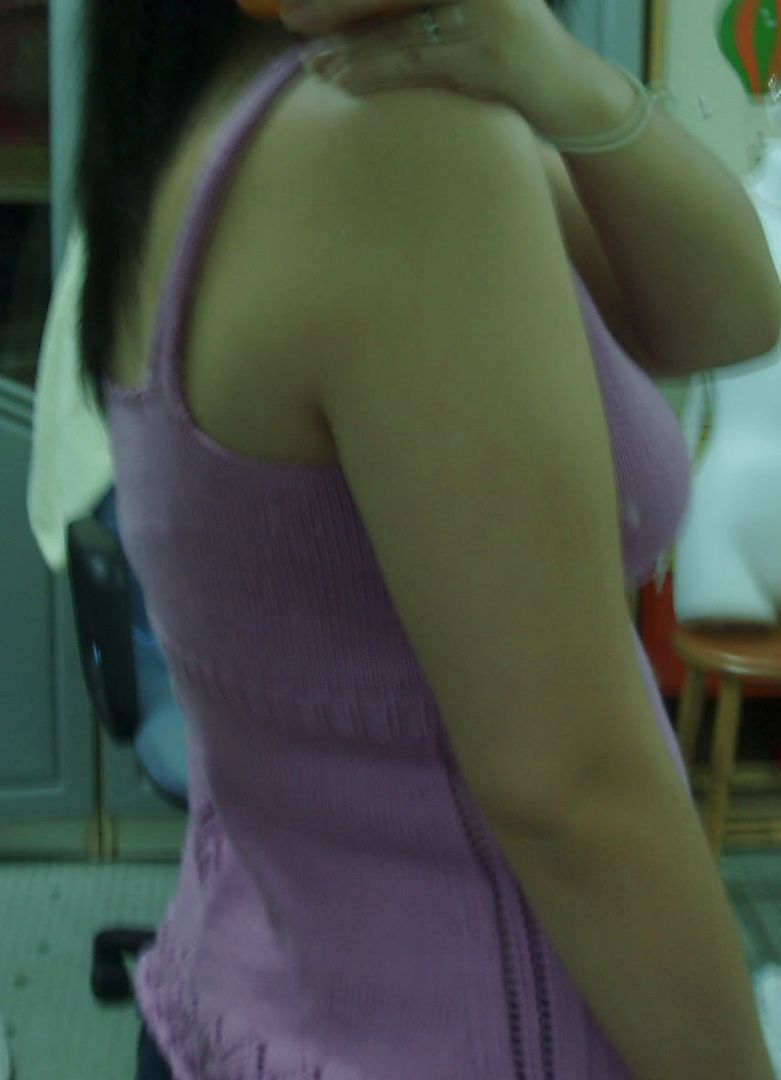 I finished her during my weekend break, after leaving her without a neckline for months in my knitting bin.
Anyway, I'll try to be more organized and wrote down the pattern specs from now on ;D I think it might be useful for future reference, though I can't imagine in what condition.
Here goes...
Pattern
: Gabby, my own
Yarn
: Jaeger Siena, 5 balls plus a few yards
Needle
: #3 Clover circular, #3 bamboo straight
Details
: The body is worked in the round, then divided for neckline. I originally wanted sleeves, but got too lazy and decided to make a tank instead. The straps are knitted from the front, then grafted to the back.
Then I added some picot crochet edging, too bad it's still curling. I think it fits me quite nicely, though I'm still too concious about my flabby arms to actually wear it out. And that was quite a lot of stockinette in such small gauge. But the yarn feels so nice to knit with that it became quite a pleasure.
You might notice that I joined the Peaceful Palms KAL hosted by
nona
. Now, who in their right mind would wear gloves at 35 degrees? Yah, not me. Anyway, I joined because I had been wanting to knit the Hurry Up Spring Armwarmers from SnBN. But then I realised that I don't really like the cable pattern after all. But I'm determined to try something....so this is what I came up with.
Knitted in Peruvian Baby Silk from
Lyn
. The yarn is so soft, but it took me quite a while to get used knitting with it. I used the same lace edging as I did with Gabby (haven't blocked it yet, so it can't be seen). I wasn't following any pattern, so...ehmm...I'm feeling quite smart here ;D I added some more picot crochet edging too! It was really quite easy ;)
I think 1 skein would be enough for a pair...yeah, and I'd be better cast on for the second one, if not it'll stay as "a handwarmer" and have the same faith as my previous socks.
I know....I still owe you Clapotis pictures...soon....soon...
Anyway, I just found some blackhead on my chin! Gah! Need to make a facial appointment soon.
And yeah, I just had some pattern idea for a lacy cardigan to knit with my RYC Cashcotton. Inspired by
Van
,
Doreen
, and
Lois
who all knitted the Rebecca wrap cardi using this yarn. Since I don't have the mag, and look much bigger wearing anything cropped, I think I'll knit something longer, with nice short sleeves and pretty buttons. Not so soon though...I'm a bit lazy lately ;D