This is supposed to be a happy post where I report on my knitting progress, but somehow everything went
really
wrong.
This is the (supposed to be) first part of Greta (my light green
Orangina
)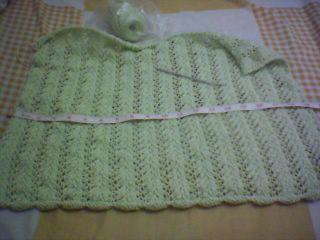 I've started the back too, then I realised that it is WAY TOO BIG (19" across! I might be big, but not THAT big, and cotton stretch!). Okay, I have to admit that I realised it 15" ago. I had choices, just keep on knitting and got an Orangina T-shirt, or dive the frog pond. I made my choice, and here it is
That's just 2" of the back, I don't have the heart to frog the front yet. I was knitting with 2 strands of DMC Petra on #5 bamboo. It turns out surprisingly nice, but not-so-surprisingly heavy. I swear that my straight needles are not so straight anymore! I think I'll start all over again and knit another swatch with single strand and smaller size needle. Then I'm going to knit it 1 or 2 repeat smaller, can't decide yet. So I guess I'll be the last one to finish in the KAL.
Here's another WIP that I haven't been showing here. I name her Gabby (Notice that I started naming my projects? It feels like naming my own children! Not that I would know how it feels, but I suppose it is). Here she is...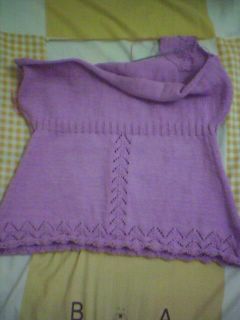 I was knitting one of the strap when I tried her on. And guess what? The bust was too big!! I'm moving 5" downward and am currently trying to pick up stitches(230++!) again. Then I'll start from the bust part, no more increasing this time. She is the one I mentioned before, the one that's knitted using Jaeger Siena and #3 needle. Does anyone notice that I stole the lace pattern from
Soleil
? What do you think?
So, I'm moving downwards while everybody are moving upwards. Wonder if I'll ever get my WIPs done...
Note: 57 more skeins of yarn coming soon!
Note 2: 9 days till Harry Potter 6 release!! 11 days till I'm 18!!