As I promised, here's a picture of me wearing Tivoli.
And here's a close-up of the contrasting colour band with little lace pattern.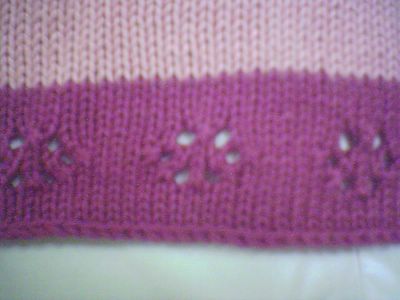 What do you think? I think it's really sweet ;)
I decided to start working on Orangina again yesterday, this time using only a single strand of DMC Petra, which is really fine. I cast on 2 pattern repeat less, but now I'm getting worried that it'll turn out too small instead. Whatever, I can always give it to my mom if it doesn't fit me.
I've been watching drama way too much lately, and way too little of much needed studying. Still no sign of my yarn purchase from Jannette in ebay....I'll keep my fingers crossed.
Well....I still have a lot to say, but my eye lids are getting really heavy. I'll take a nap now...Zz..z.z..z.Zz.Zz.....