That's right, I finally knitted my first sock ever. First, I made this
training sock
.
It's really cute and I just can't help but to show it off to my classmates. They immediately wanted it and I finally gave it to my friend who sit next to me so that she can use it as a mobile phone cover. I'll definitely knit more of them, they're so easy and fast to knit!
Then, I knit this sock using the pattern provided by the First Sock Knitter KAL. They're pretty easy and quick to knit since the pattern is using #6 dpns. I'm using the superwash merino wool from MCY. As you can see, the colour is really variagated and it changes every quarter row.
>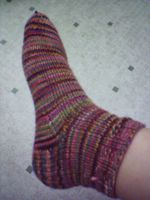 Anyway, please don't mind my big and ugly foot. I had to really stretch the sock before I can wear it. Lesson learned, if you have big feet and big ankles, then knit big socks. And yeah, I did say 'sock', not 'socks'. I'm not planning to knit another one of this, since I know that it won't fit anyway.
This goes out to sadls_star@yahoo.com.sg. I tried to email you twice but I got a delivery failure notification both times. I hope you're reading this, visit the Golden Dragon at People's Park Center 02#51. They stock lots of Rowan, Jaeger, Sirdar, Japanese yarns and lots more! I'm sure you'll like it there.