I came back from Indonesia yesterday, and had the same strange feeling I have when I have to leave home. It sure is not a good feeling, and I've been through the same thing over and over again for the past 7 years.
Anyway, here's the pictures of my new yarns as promised. Feast your eyes!!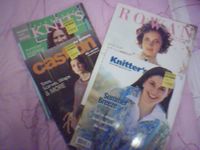 Some knitting mags from Singapore, so glad to find them, not so glad with the price though. And check out those great CashCotton, they're sooo....soft. I only got 6 skeins though, not sure what I could knit out of it. Would it be enough for NBaT?
The lovely Jaeger siena, I absolutely love this yarn!! And 10 skeins of Merino Style from KnitPicks, I'm looking for a sweater pattern for this. Preparation for my future, if I get to move to somewhere with real seasons.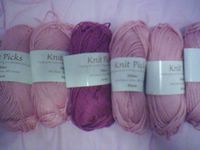 Shine is a really lovely yarn, I'm planning to knit a top with this, any pattern ideas? See those brilliant colours I got for Wool of Andes? Time for some felting!!
Some Sirdar Breeze to knit Cozy from Knitty Fall 04, or maybe another wrap pattern. It'll be a gift for my teacher when I graduate. Those 2 Patons PowderPuff will be a case for my notebook, then maybe I'll knit Candy Stripers from SnBN and use it as a lining.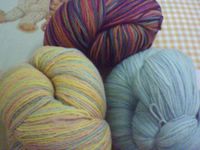 A skein of Alpaca Cloud, and another 2 skeins of Merino Style. I'll be knitting something lacy from the Alpaca Cloud. Then there are my
MCY
, the colour are a bit different from what I saw on their website, but they're still pretty anyway.
I wanted to knit this top from Knitter's mag, it's called Squash Blossom. I planned to use Siena and I made the swatches, but I still can't get the gauge. Siena has a real fine gauge with 28 sts/4". I tried using larger needle, but I hate how it turns out, I love it when my stitches are tight. 2 skeins of sock yarn, I'm currently looking for an easy pattern to knit my first sock. Preferably using Magic Loop technique, since I suck with dpns.
Last but not the least, I got 2 skeins of Shimmer in the colour Happy Dance (I love that name!). I think I could knit a big Kiri with this, what do you think about Kiri in variagated colour?
My mom thinks that I've got enough yarn for a whole year, but I'm sure you'll understand my need to buy more ;) I've been itching to shop online again, since I still can't find Rowan 4-ply cotton for my Lucky.
Anyway, I'm currently knitting the second sleeve of my mom's cardigan. I'm hating it, and I'm really unsure about how it turns out. Oh, and my sleeve caps looks really ugly. Hope I can finish it as fast as possible and get it out of my sight. I hate finishing, there are thousands of ends to weave, and lots of edges to seams, Aaarrrghhh!!!!